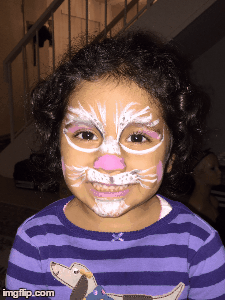 Face Painter-Basic / Balloon Twister (1 hour)
Entertainers
For one hour a face painter/balloon twister will come to your party and do a combination of both balloon twisting and basic face painting. $50 for every extra 1/2 hour. If you only want balloons and no face painting it is an additional $50 for the first hour and then $100 for every 1/2 hour after that.
It is required to pay for this in advance and once paid there are no refunds. IF
there is a travel fee to your city you must add that amount to your order (call the office).
Features:
Face Painter-Basic/Ballon Twister

Appox 10-15 kids in 1 hr