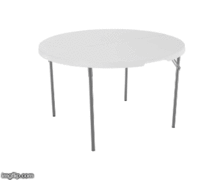 5ft Plastic Round Table
$15.00
Setup Area:
Electrical Outlets:
Staffing:
This 5 foot (60 inches) White table is great for events, graduations, corporate events or back yard parties. Can seat 6 to 8 chairs, see seating chart on image. (this is for just the table we rent chairs also.)
Tables, Chairs & Tents
Folding White table.
If you order without an inflatable a $40 Non-Inflatable fee will be added. Remember these are rental pieces and maybe chipped or worn, a covering is recommended.
This 5 foot (60 inches) White table is great for events, graduations, corporate events or back yard parties. Can seat 6 to 8 chairs, see seating chart on image. (this is for just the table we rent chairs also.)