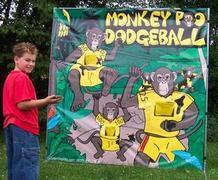 Monkey Poo Dodgeball
$79.00
Setup Area:
Electrical Outlets: 0
Staffing:
Carnival Games
Monkey Poo Dodge Ball is a wild and gross game that no 12 year-old can resist. The game comes complete with rubber piles of "poo", which the players toss at the rampaging mutant monkeys. The point system makes for a great competitive game for all ages.
IF YOU ORDER WITHOUT AN INFLATABLE A $40 NON-INFLATABLE FEE WILL BE ADDED.